Dr. Julia Rohrbach
Founder & Speaker – ABnR Academy
DVM, Tierärztliche Praxis für Pferde Dr. Karl Grieshaber
Co-Founder and Owner of ABnR – Akademie Dres. Blum&Rohrbach Veterinäre PartGmbB
Board Certified Specialist in Animal Chiropractic (IAVC, IVCA)
Stammer-Kinetics® – Motion Analysis and functional Mobilisation
Myofascial Release Technique and Dry Needling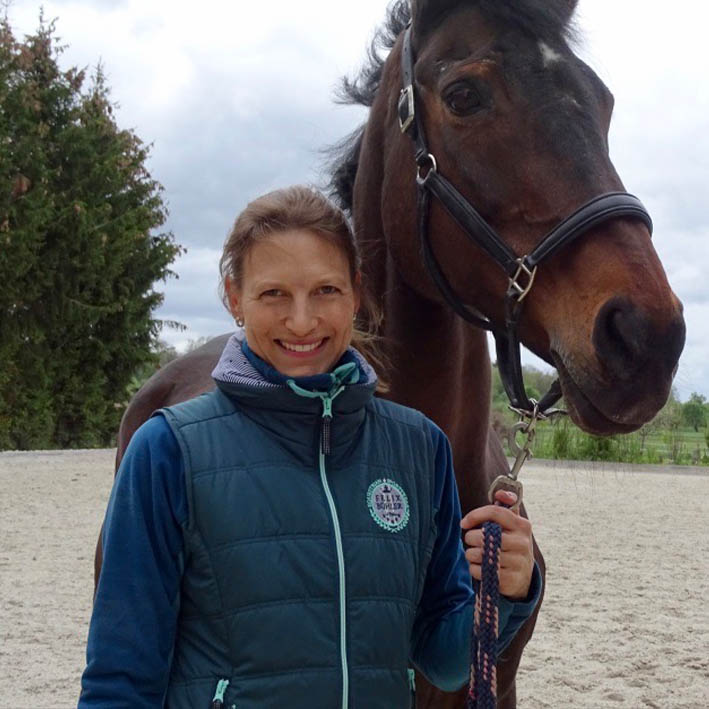 More Information
About Dr. Julia Rohrbach
Dr. Julia Rohrbach graduated 2006 from the 'Tierärztliche Hochschule Hannover' in Germany. Since Julia was always interested in equine medicine and especially orthopedics she started working at the 'Pferdeklinik Bargteheide' in northern Germany where she could not only learn from well known experts in this field but also conducted a study about the equine cervical spine together with the University of Zurich which promoted her to a doctor of veterinary medicine.
In the following years Julia worked in the orthopedic departments of renown equine hospitals and took part in extra-occupational CPD programs to deepen her skills and knowledge about biomechanics, rehabilitation, chiropractic and physiotherapy.
In 2010 she graduated from the International Academy of Veterinary Chiropractic (IAVC) and got certified by the International Veterinary Chiropractic Association (IVCA). In 2021 she became a Board Certified Specialist in Veterinary Chiropractic by the Austrian Chamber of Veterinarians.
For more than a decade Julia lectures on national and international congresses and teaches colleagues in CE seminars. In January 2021 she founded the 'ABnR – Akademie Dres. Blum & Rohrbach' – a private educational institute – together with her colleague Dr. Nadine Blum and they launched their six course CPD series 'Applied Biomechanics and Rehabilitation'.
At the same time her heart is still in the care for her patients and she works as an equine veterinarian in the south of Germany at a clinic specialized on integrative orthopedic medicine combining school medicine, veterinary chiropractic and rehabilitation.
Tabular CV Information
2006
Graduation as Veterinarian from University of Veterinary Medicine, Hannover
2006-2007
Dissertation in cooperation with the equine clinic Bargteheide Dr. W. Jahn/Dr. V. Sill and the Vetsuisse faculty Zurich on the topic "Evaluation of the treatment success of injections into the facet joints of the cervical spine in horses with horses with cervical spine osteoarthritis".
2007-2014
Veterinarian at the veterinary clinic Domäne Ammerhof, Dr. B. Biesinger, Dr. K. Grieshaber & Dr. J. Clausen, Tübingen
2009
Further education in veterinary chiropractic with graduation from IAVC (International Academy of Veterinary Chiropractic) and certification by the IVCA (International Veterinary Chiropractic Association)
since 2010
Teaching at the International Academy of Veterinary Chiropractic Chiropractic
since 2014
Lecturer at national and international seminars and Congresses among others on the topics: Biomechanics, Rehabilitation, exercise physiology, chiropractic, orthopedics
2014-2020
Veterinarian for horses in the Black Forest Veterinary Clinic Neubulach
since 2020
Veterinarian for horses in the veterinary practice for horses Dr. Karl Grieshaber, Herrenberg
2021
Founder and Partner of ABnR – Akademie Dres. Blum&Rohrbach Veterinäre PartGmbB

Board Certified Specialist in Animal Chiropractic (A)
back to Speaker overview