back to home
ABnR Course Series
Applied Biomechanics & Rehabilitation Course Series
This course series focusses on functional biomechanics and rehabilitation presented in theoretical lectures and intensive hands on practical sessions in small groups.
It consists of four equine and four canine modules and provides thorough insight into modern rehabilitation science and techniques as well as state of the art tools and techniques to use in your daily practice! To give you the best possible learning experience we invite experts from all over the world to teach along with us.
All modules are self-contained and can be booked individually.
However taking all modules enables you to qualify as 'ABnR certified Rehabilitation Practitioner' for either equine, canine or both! The modules & courses are repeated every two years – you can start with any module at any time.
Show Course Series Content
Module Booking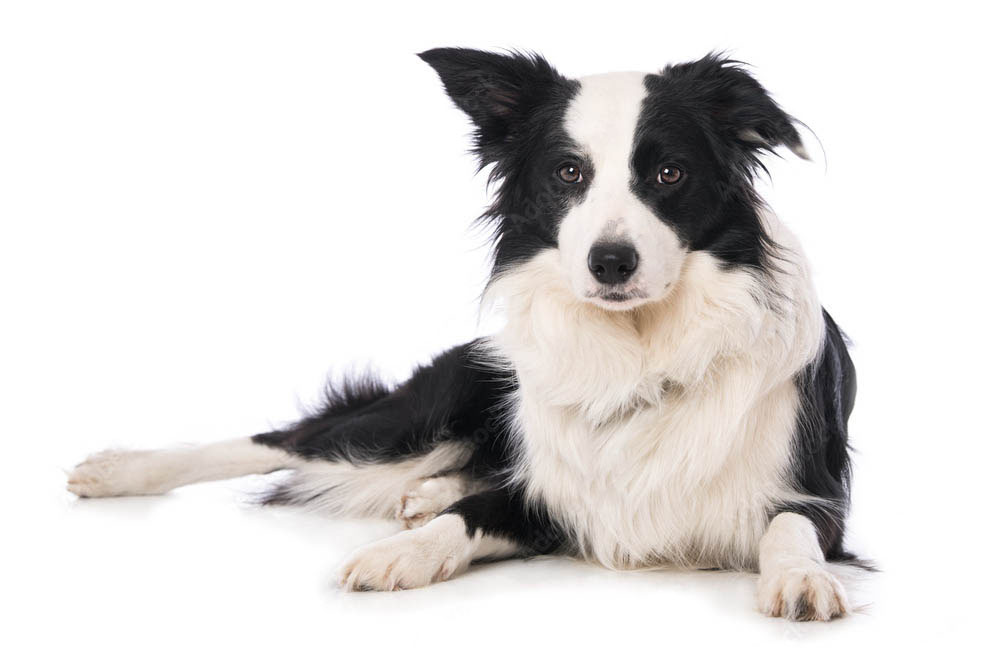 ABnR Course Series Content
Post-graduade insight into modern rehabilitation science & techniques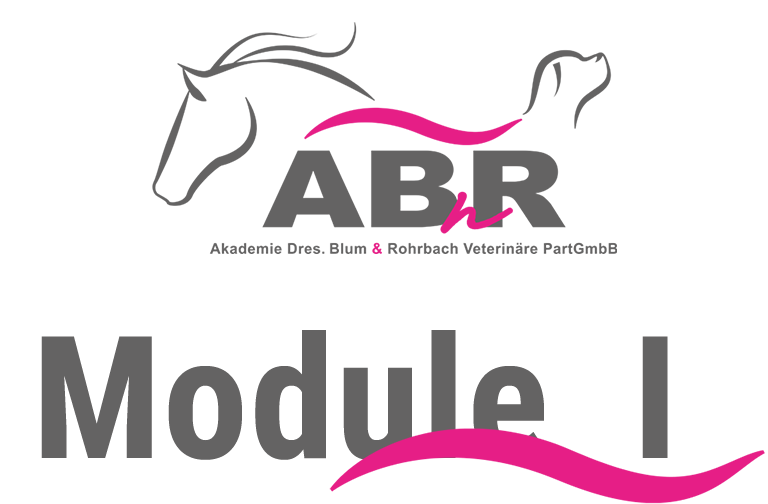 Module I: Applied Biomechanics
A thorough understanding of a patients biomechanics is essential for correct treatment decisions. Functional asymmetry versus lameness – where do we draw the line? We will introduce technical devices we can utilize for an objective evaluation and discuss common compensatory patterns and their influence on the musculoskeletal system.
equine and canine biomechanics, clinical implications and case reports
subjective and objective gait analysis in theory and practice
functional lameness examination and interconnection between school medicine and integrative therapy
common orthopedic diseases connected to functional disorders in sports dogs and equine athletes
Speaker: Dr. Nadine Blum, Prof. Dr. Hilary Clayton, Dr. Jenny Hagen, Dr. Selma Latif, Dr. Julia Rohrbach 
Course date Equine: 25. – 27. November 2022 | 2024 course dates coming soon
Course date Canine: 22. – 24. Septemer 2023
Booking status: Open for bookings
2024 Equine coming soon
Booking - Canine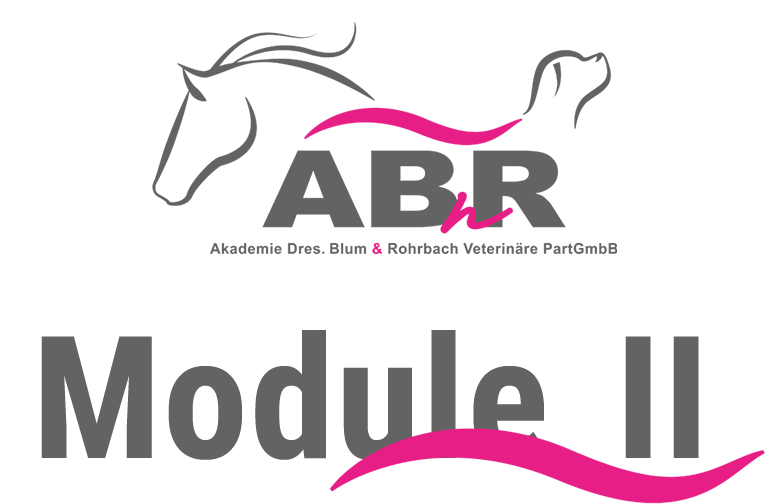 Module II: Physiology & Training

To provide optimal care for our patients a 'big picture' holistic approach is required. Not only trainings physiology and routines need to be understood, but follow up training, specific nutrition as well as training equipment to enable core strengthening andproprioceptive improvement for our four- and two-legged athletes!
the physiology of training: training with stimuli, interval training, rest periods, nutrition and supplements
muscle physiology, development and performance
riding is the most common training method for horses: how can we optimize?
what do we have to consider? Biomechanics, self-carriage, engagement and proprioception, muscle health and strength and functional stabilization in our patients
lunging can support other forms of rehabilitation and training: what are the pros and cons of specific lunging programs such as Equikinetic® or Schiefentherapie® ?
pole work, lunging equipment, side reins, therabands, stabilization trainers, proprioceptive mats, vibration therapy
agility training and foot work, training routines for different conditions, breeds and disciplines in dogs
canine training equipment for dogs, balance pads and parcours, treadmill and weight training
general equipment evaluation in theory and practice: focussing on key points of a well fitting saddle and bridle respectively collar and harness
Speakers: Dr. Nadine Blum, Dr. Anna Ehrle, Dr. Emmanuelle van Erck, Dr. Russell MacKechnie-Guire, Dr. Carolien Munsters, Dr. Julia Rohrbach
Course date Equine: 21. – 23. April 2023 (ATF approved: 17hours / IVCA approved: 20 hours)
Course date Canine: 22. – 24. Septemer 2023
Booking status: Open for bookings
Booking - Equine
Booking - Canine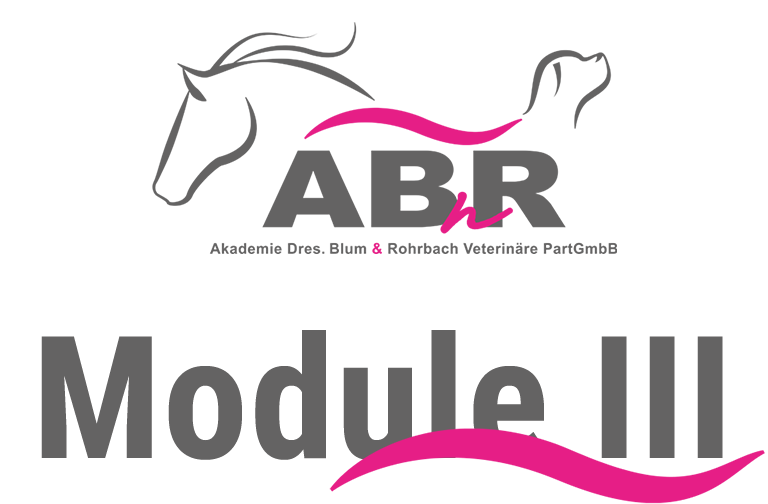 Module III: Electro & Physical Therapy

Physical and electro therapy in animals is a huge and rapidly growing sector and it can be difficult to decide which treatment is the best for the individual patient or which device to chose for your practice. This module provides a thorough overview of available tools and options as well as a comparison of pros and cons:
Transcutaneous/Percutaneous electrical nerve stimulation (TENS/PENS),
Neuromuscular electrical stimulation (NMES), Functional electrical stimulation (FES), Microcurrent electrical nerve stimulation (MENS), Pulsed electromagnetic field (PEMF), Electromagnetic field therapy (EMF), Molecular biophysical stimulation (MBST), Transcranial magnetic stimulation (TMS), FasciaRelease (Neurostim® , Extrazell® , RollArt® , Rapid Release® and others)
Laser, Therapeutic Ultrasound, Shockwave, Percussion and Vibration therapy
use various systems on appropriate tissues and learn how to optimally include them in your every day work in practical sessions
Speakers: Dr. Nadine Blum, Dr. Jenny Hagen, Dr. Joao Paulo Marques, Dr. Julia Rohrbach
Course date Equine: 24. – 26. November 2023
Course date Canine: 27. – 29. September 2024
Booking status: Open for bookings
Booking - Equine
Booking - Canine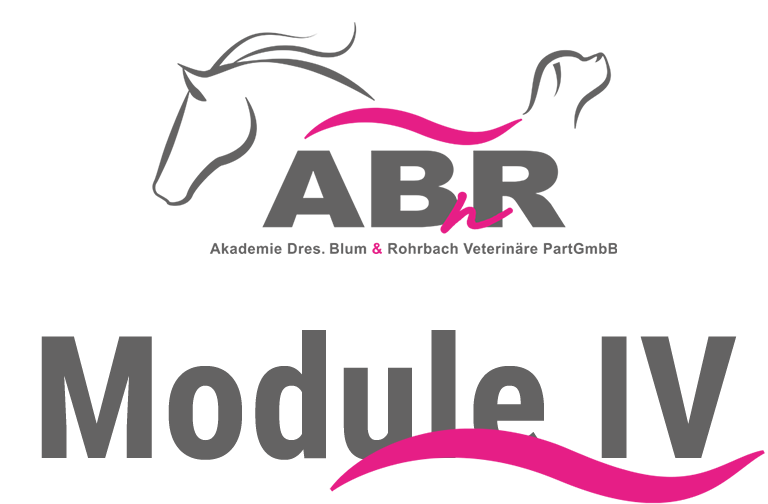 Module IV: Integrative Rehabilitation

Various factors play a role for the health and wellbeing of animals and should not be overseen in rehabilitation concepts! In this module we will add some important aspects and bring them together with the knowledge and skills we learned in the previous modules:
equine and canine nutrition: ration calculation, supplements and adaptations for specific conditions
sleep deprivation in horses – a still underrated factor contributing to many diseases
orthobiologics – how do they work and how can we integrate them into our treatment protocols?
understanding the neurological background of manipulation therapy and physical and electro therapy devices
fascia: Myofascial Pain Syndrome, diagnostics and treatment options
tissue responses to immobilization and mobilization
Speaker: Dr. Nadine Blum, Dr. Christine Fuchs, Dr. Ute Pansegrau, Dr. Julia Rohrbach, Dr. Solange Mikail, Prof. Dr. Vervuert
Course date Equine: 26. – 28. April 2024
Course date Canine: 27. – 29. September 2024
Booking status: Open for bookings
Booking - Equine
Booking - Canine

Module Booking – Equine
Modules of ABnR Equine Course Series are self-contained & can be booked individually
Module Booking – Equine
Modules of ABnR Course Series are self-contained & can be booked individually
Module Booking – Canine
Modules of ABnR Canine Course Series are self-contained & can be booked individually
Module Booking – Canine
Modules of ABnR Course Series are self-contained & can be booked individually