Mag. Med. vet. Sigrun Klose, DVM
Speaker – ABnR Academy
Pferdepraxis Sigrun Klose
Certified Equine Dentist (IGFP)
Certified Animal Chiropractor (IAVC)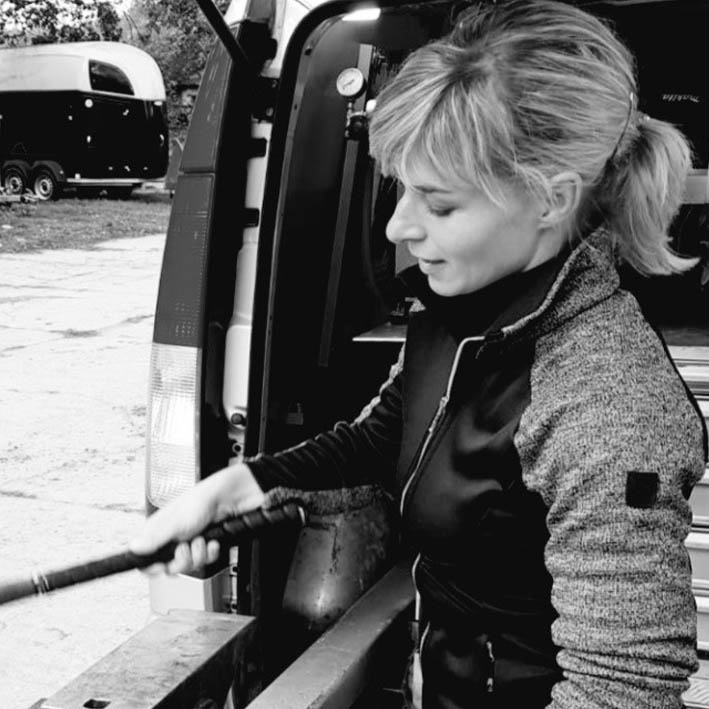 More Information
About Dr. Sigrun Klose
Growing up with horses and training them already created a very early interest in medicine and biomechanics of the equine athlete.
Before attending vetschool at Universitiy of Veterinary Medicine, Vienna, Austria, Sigi certified as vet technican at Tierklinik Lüsche GmbH in 2001 where she deepened her interest in biomechanics and podiatry as well as dentistry.
Working as an associate veterinarian in different equine clinics and practices, the limitations among veterinarians of understanding the biomechanics of the equine foot made her focus on shoeing horses.
Treating severe cases of laminitis and other hoof related lameness cases on a daily base brought Sigrun to a broad variety of workshops, clinics and wetlabs around podiatry. A workshop about the SAPAS (self adjusting palmar angle shoe) with Ronald Aalders finally introduced her to a proper shoeing protocols.
Given the chiropractic background as certified animal chiropractor (IAVC) Sigrun focused more on the interaction of shoe position and shape and the mechanics applied to the foot with the impact on a horse´s back and its overall performance.
At first sight there might be no or little connection between equine teeth and feet. Having a closer look it is obvious that mechanics and equilibration are vital for both and have a major effect on the health and wellbeing of a horse.
We are proud to have Sigi on board as an International Certified Animal Chiropractor (ICVA) as well as National Certified Equine Dentist (IGFP) and highly experienced vet colleague.
Tabular CV Information
2006
Degree as Vet Technician at ´Tierklinik Lüsche GmbH´
2012
Degree in Veterinäry Medicine at ´Veterinärmedizinische Universität Wien, Austria´
2012 – 2013
Externships at ´Pioneer Equine Hospital´ and ´Lonestar Park Equine Clinic´
2012 – 2013
Associat Vet as ´Pferdeklinik am Kirchberg´
2013 – 2019
Associate Vet at ´Pferdepraxis München, Dr. Thomas Heinz´
2017
Gratuation as Certified Equine Dentist (IGFP)
2019-2021
Associate Vet at ´Tierklinik Lüsche GmbH´
2021
Founder and owner of ´Pferdepraxis Sigrun Klose´
back to Speaker overview