Winnie Dreschel, MRCVS
Speaker – ABnR Academy
DVM
Veterinary Chiropractic & Acupuncture – Winnie Dreschel
Board Certified Specialist in Equine Medicine (GER)
Board Certified Specialist in Equine Chiropractic (A) (IAVC, IVCA)
Certified Veterinary Acupuncturist (IVAS)
Stammer-Kinetics® – Motion Analysis and functional Mobilisation
Myofascial Release Technique and Dry Needling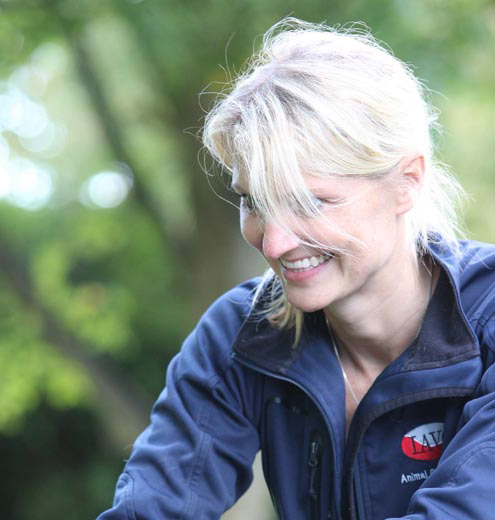 More Information
About Winnie Dreschel
Winnie Dreschel graduated from the Faculty of Veterinary Medicine, University of Leipzig, Germany, in 2000.
After some months practical trainee time at the University of Nairobi and the Kenya Wildlife Service and some traveling throughout Africa, she started in 2000 as a veterinary assistant in a small clinic in Saxony, Germany.
From 2002 until 2010 she worked at the Veterinary Clinic in Schwerin, Mecklenburg-Vorpommern, where she completed her specialisation in Equine Medicine in 2007 successfully. There she worked as a veterinary surgeon with both horses and small animals.
In 2008 – 2009 she completed the Basic Animal Chiropractic education at the IAVC (International Academy of Veterinary Chiropractic) in Sittensen, Germany, and was certified by the International Veterinary Chiropractic Association (IVCA).
From 2010 she attended within the Advanced Program of the IAVC several different seminars in Applied Kinesiology, developing a special interest in Applied Kinesiology and the Neurology behind it, and seminars in Craniosacral Therapy, Myofacial Release Technique and others, completing the Advanced Program in 2015.
2011 – 2013 Winnie Dreschel successfully completed her Acupuncture training with the GERVAS (German Veterinary Acupuncture Society), a subdivision of the IVAS (International Veterinary Acupuncture Society) and became a certified Veterinary Acupuncturist by the IVAS 2013.
2013 she successfully completed the exam as a Chiropractic Specialist in Vienna, Austria.
From 2011 – 2015 she was exclusively practicing Chiropractic and Acupuncture in the Veterinary Practice Dres. Moffatt in Germany and became a lecturer at the International Academy of Veterinary Chiropractic.
2016 she established her own Practice "Veterinary Chiropractic & Acupuncture – Winnie Dreschel" in Mecklenburg-Vorpommern, Germany and worked also in Somerset, England until 2020.
She continues lecturing at the International Academy of Veterinary Chiropractic (IAVC).
Tabular CV Information
Year of birth: 1976
Approbation: 2000


2000 – 2002
Tierärztliche Klinik Dr. Düring, Stolpen, Saxony
2002 – 2010
Tierärztliche Klinik Schwerin, Mecklenburg-Vorpommern
2011 – 2015
Tierärztliche Praxis für Chiropraktik und Akupunktur Dr. Moffatt, Freetz, Lower Saxony
since 2016
establishing of "Veterinary Chiropractic & Acupuncture – Winnie Dreschel" in Mecklenburg-Vorpommern, Germany (and Somerset, England until 2020)
2007
Bord Certified Specialist in Equine Medicine (GER)
2009
Certification as Animal Chiropractor (IAVC, IVCA)
2013
Certification as Veterinary Acupuncturist (GERVAS, IVAS)
Board Certified Specialist in Veterinary Chiropractic (A)
Since 2011
Lecturer at the IAVC – International Academy of Veterinary Chiropractic
back to Speaker overview